---

One Twenty Three Menu
PEI mussels, diced mirepoix, potatoes, tarragon, white wine butter sauce, grilled sourdough
Traditional deviled eggs, green tomato chow-chow, spicy chiccarone
Brussels Sprouts Salad
12
Fried brussels sprouts, red cabbage, poblano, scallion, cilantro, carrot, grapefruit segments, wonton strips, ginger-citrus vinaigrette
Mixed greens, grilled asparagus, shaved radish, red pepper, poblano, croutons, feta, green goddess dressing
Add protein to any salad: chicken - 5, shrimp - 6
Crab, celery root & frisbee salad, green goddess dressing
California Garlic Fries
8
Fresh garlic, roasted garlic oil, parsley, black pepper, sundried tomato aioli
Panko-cornmeal crusted fried green tomatoes, whipped garlic yogurt, pickled carrots, blistered corn & serrano pepper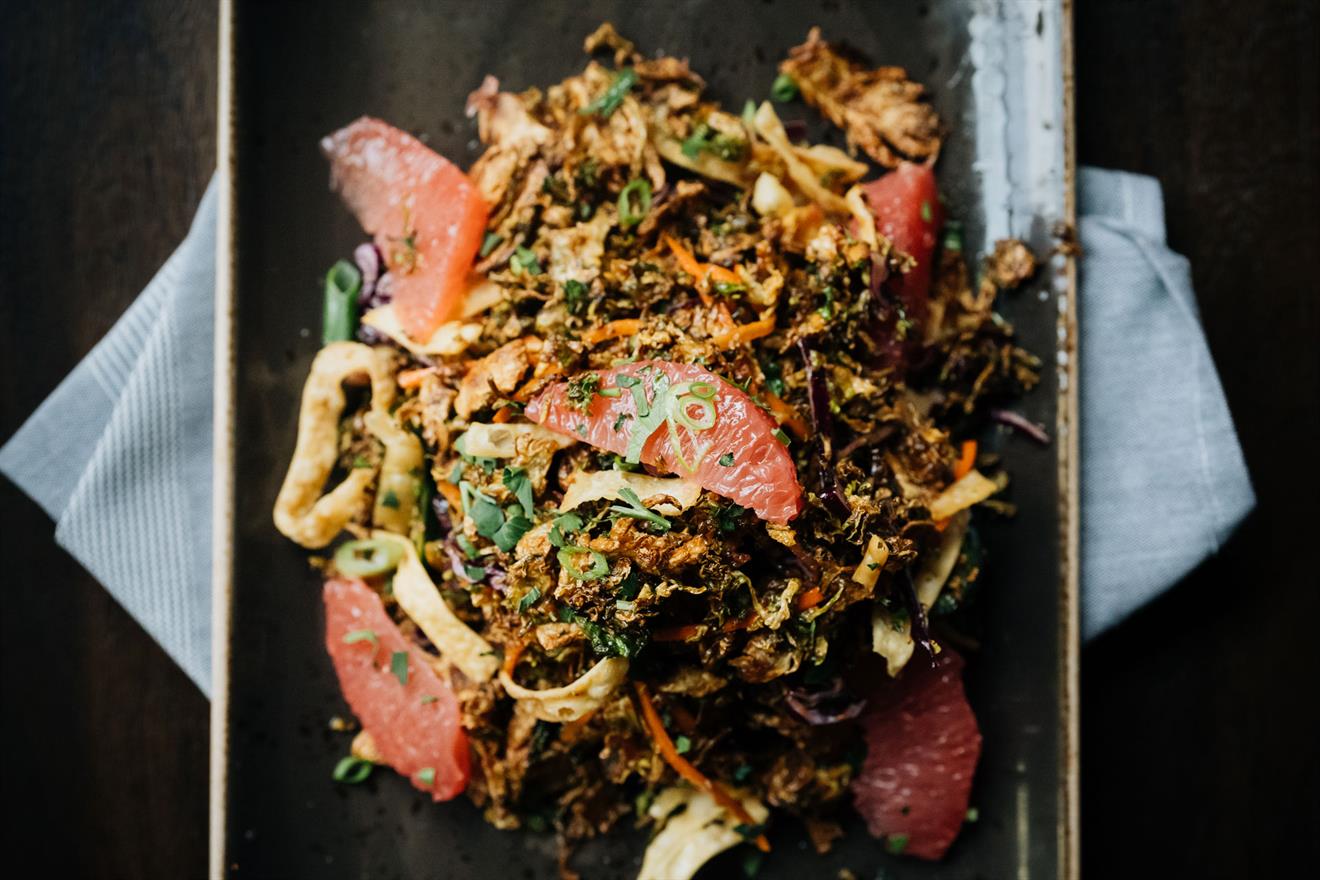 Handhelds
All handhelds come with kettle chips. Add fries - 1 Add California fries - 2
One Twenty Three Burger
12
7 oz custom blend burger, bacon-onion marmalade, lettuce, white cheddar, dill pickle aioli, brioche bun
Three red lentil falafels, feta, tomato, pickled red onion, cabbage & Brussels slaw, spicy yogurt, naan bread
Two all-beef diner patties, american cheese, lettuce, tomato, grilled onion, pickle, fancy sauce, brioche bun
Adobo-marinated flank steak, tomatillo slaw, goat cheese crema, cilantro, double corn tortillas
Chimichurri-marinated shrimp, tomatillo slaw, goat cheese crema, cilantro, double corn tortillas
Blackened Whitefish Sandwich
12
Cornmeal crusted pan-fried whitefish, lettuce, pickle, onion, lemon-old bay aioli, teller roll
Fried Chicken Sandwich
12
Pickle-brined chicken, dill pickle, marinated cabbage, pimento beer cheese, telera roll, fries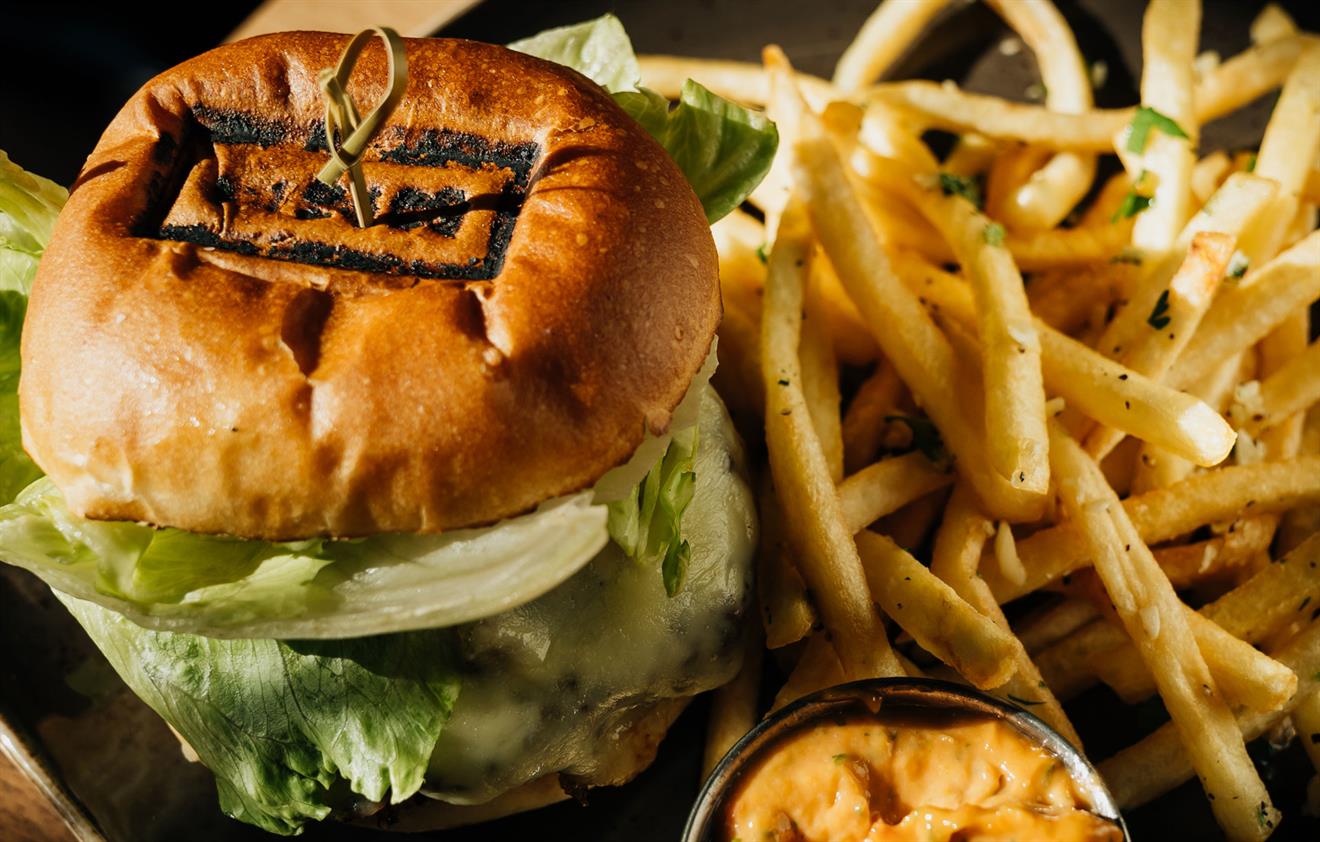 Colcannon potatoes, grilled asparagus, crispy brussels sprouts, blistered grape tomato, sweet red-eye gravy
Buttermilk three bean salad, frisbee, dijon vinaigrette, marinated cucumbers
Pan-fried chicken breast, bacon braised collard greens, Hoppin' John risotto, tabasco brown butter
Grilled Bone-In Pork Chop
21
Bradley's Country Store Grits, blistered corn & baby kale, caramelized onion, bourbon-blueberry bbq
Lemon-herb puree, fennel, asparagus, blistered grape tomato, kalamata olive, bread crumb
Add protein: chicken - 5, shrimp - 6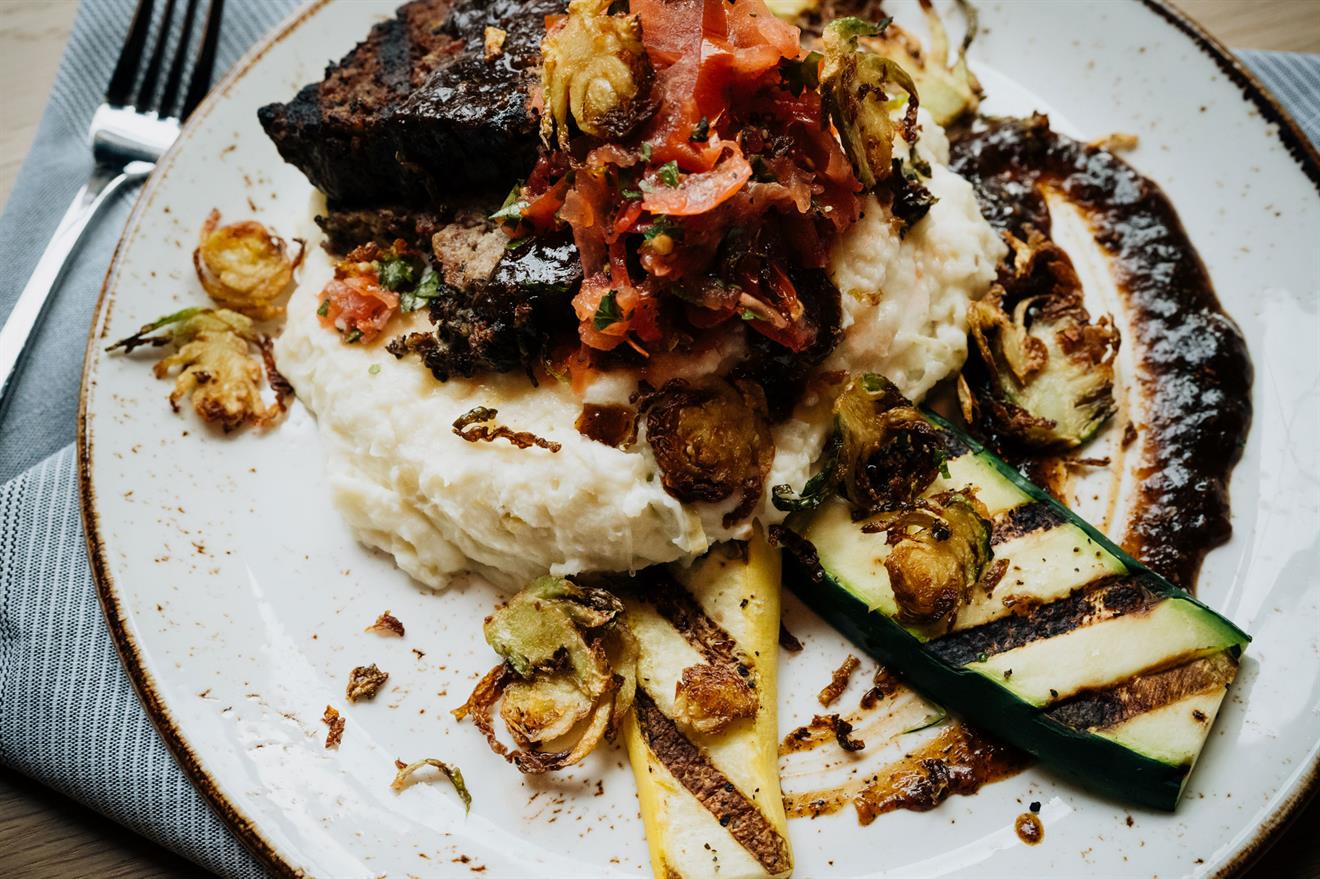 Kids
Includes small drink & choice of Fries or mandarin oranges
Side of BBQ sauce & ranch
Kraft Macaroni & Cheese
7
Pickle, ketchup, mustard, pretzel bun, american cheese
All beef hot dog, ketchup, mustard, brioche bun
American cheese, white bread
Long Road Vodka, pineapple juice, lime juice, regatta ginger beer, lime wheel, mint sprig
Banhez Mezcal, grapefruit juice, lime juice, pamplemousse, agave syrup, soda water, salted rim
Strawberry Basil Margarita
11
Espolon Resposado, Luxardo Maraschino, Cointreau, stawberry, lime juice, agave, basil, strawberry garnish, salted rim
BLACKBERRY BOURBON SOUR
11
Long Road Bourbon, Luxardo Amaretto, lemon juice, blackberry simple syrup, lemon twist
Templeton Rye, Courvoisier, Two James Absinthe Verte, simple syrup, Peychaud's bitters, lemon twist
One Twenty Three Old Fashioned
11
Yellowstone bourbon, brown sugar simple, Regan's orange bitters, filthy cherry
Caravedo Mosto Verde Pisco, orange juice, lime juice, simple syrup, egg white, orange slice
Aperol, Mawby Sex Sparkling Rose, Long Road Raspberry Liqueur, orange slice
Cucumber and mint infused gin, St. Germain, lemon juice, simple syrup, soda water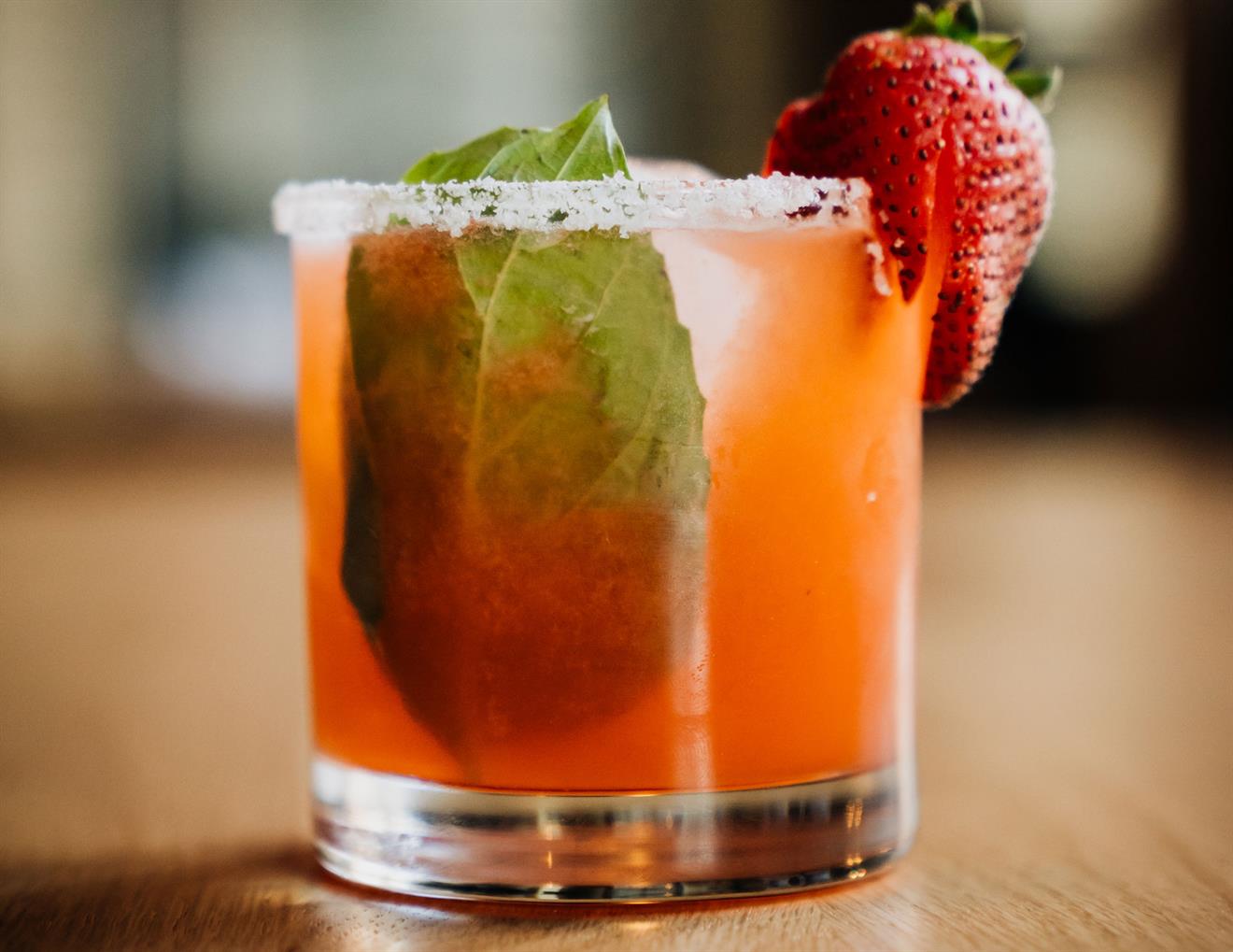 Strawberry Basil Margarita
Wine
6 oz | 9 oz | Bottle
Kung Fu Girl Riesling
7 | 10.5 | 25
Tier 1 | White | Columbia Valley, Washington
White peach, mandarin orange, apricot, minerality
Cycles Gladiator Chardonnay
7 | 10 | 25
Tier 1 | White | Central Coast, California
Green apple, pear, citrus, vanilla
10 SPAN PINOT NOIR
7 | 10 | 25
Tier 1 | Red | Central Coast, California
Raspberry, touch of spice
BLACK'S STATION CABERNET SAUVIGNON
7.5 | 11 | 26
Tier 1 | Red | Napa Valley, California
Black currant, chocolate, soft tannins
GIESEN SAUVIGNON BLANC
7.5 | 11 | 26
Tier 1 | White | Marlborough, New Zeeland
Grapefruit, apple, lemon, pleasant acidity
PIQUITOS MOSCATO
7 | 10 | 25
Tier 1 | White | Valencia, Spain
Mandarin peel, honeysuckle, sweet orange blossom
Villa Viva Rosè
7 | 10.5 |25
Tier 1 | Rosè | Cotes de Thau, France
Raspberries, strawberries, dry finish
Benvolio Pinot Grigio
7 | 10 | 25
Tier 1 | White | Friuli, Italy
Apple, Pear
Drumheller Merlot
7 | 10.5 | 25
Tier 1 | Red | Columbia Valley, Washington
Blueberry, spice, rose petal, cocoa
Kendall-Jackson Vintner's Reserve Chardonnay
9.5 | 13.5 | 35
Tier 2 | White | Central Coast, California
Oak, citrus
Mer Soleil Sliver Chardonnay
11.5 | 17 | 41
Tier 2 | White | Central Coast, California
Peach, apricot, vanilla wafers, honey
Decoy Pinot Noir
11.5 | 17 | 43
Tier 2| Red | Sonoma County, California
Cherry, raspberry, cranberry, toasty oak
Robert Hall Cabernet Sauvignon
11.5 | 17 | 43
Tier 2 | Red | Paso Robles, California
Black currant, cedar, spice, cocoa
Marlborough Sauvignon Blanc
9.5 | 14 | 35
Tier 2 | White | Marlborough, New Zealand
Grapefruit, citrus, white currant
Seven Falls Rapids Red Blend
9 | 12.5 | 33
Tier 2 | Red | Wahluke Slope, Washington
Dried fruit, anise, spice
Portillo Malbec
8.5 | 11.75 | 31
Tier 2 | Red | Mendoza, Argentina
Blackberry, plum, licorice, light oak
Bivio Pinot Grigio
8.5 | 11.75 | 31
Tier 2 | White | Delle Venezie, Italy
Green apple, citrus
Campuget Rosè
9 | 12.5 | 33
Tier 2 | Rosè | River Valley, Italy
Raspberries, Strawberries
Honey Bubbles Sparkling Moscato
11.5 | 17 | 43
Tier 2 | White | Northern Italy
Tangerine, honey, peaches, white flowers, orange zest
Tier 2 | Sparkling Rosè | Suttons Bay, Michigan
Red berry, dry, crisp, effervescent
Hahn Merlot
9.5 | 14 | 33
Tier 2 | Red | Central Coast, California
Sweet spice, toasty oak
Bollicini Prosecco
8 | 11.5 | 29
Tier 2 | White | Italy
Dry, fruity, fresh
Frog's Leap Sauvignon Blanc
52
Tier 3 | White | Napa Valley, California
Stone fruit, white flower, herbs, minerality
Tier 3 | White | Napa Valley, California
Apple, pear, melon fruit, toasty oak
Jamieson Ranch Cabernet Sauvignon
74
Tier 3 | Red | Napa Valley, California
Apple, pear, melon fruit, toasty oak
Exitus Bourbon Barrel Aged Red Blend
50
Tier 3 | Red | Fresno County, California
Blackberry compote, leather, dark chocolate
Tier 3 | Red | Napa Valley, California
Wild berries, caramelized oak, vanilla
Ask server for current selections
Virtue Cider Michigan Apple
5.5
Vander Mill Totally Roasted
5.5
Hard Cider with cinnamon, pecan, vanilla
Angry Orchard Crisp Apple
5
New Holland Dragon's Milk
10
Bourbon Barrel-Aged Stout
Brew Detroit Cerveza Delray
4.5
Redbridge Gluten-Free Beer
5
Fresh squeezed lemon juice, blueberry simple syrup, sugared rim
24-Hour cold brew coffee, cardamom, cinnamon
SACRED SPRINGS FRUIT OF LIFE KOMBUCHA
6
Sparkling natural mineral water
Happy Hour
3:00 - 6:00PM Monday-Friday and all day Wednesday
$3 off Specialty Cocktails
*Consuming raw or undercooked eggs, beef, lamb, milk, produce, pork, poultry, seafood, or shellfish may increase your chances of foodborne illness. Ask your server about menu items that are cooked to order, served raw, or if you have any food allergies. We are unable to guarantee any menu item is completely vegan, vegetarian or free from certain allergens. Please inform your server of any allergies or dietary preferences & we will work to find menu items that suit your needs.
Something outside the ordinary.
Right outside our large folding doors, you can sit and be served in Studio Park's piazza, where it's always a good time waiting to happen.
Let's Get Together
Centrally located in studio park
---